03.07.95 - Brownies - New York, NY - w/ Ugly Beauty, The Lemons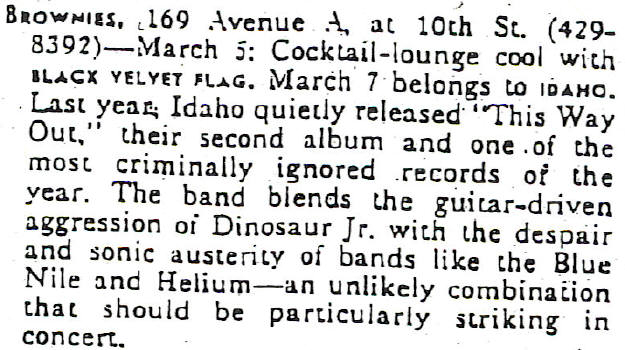 01. you are there
02. drive it
03. crawling out
04. ten to noon
05. fuel
06. taken
07. stones (shame)
08. still
09. lorali (stare at the sky)
10. skyscrape
many thanks to Chris for the setlist
here is a review of the show
Tailspins
idaho
ugly beauty - the lemons
March 7th, 1995 Brownies, New York City
The Lemons started out this night's show with an all too familiar version of generic punk rock. Straight forward melodic baby punk rock. They sounded like L7 with a guy signing. This experience was what I like to call "bar chord hell". When you hear a band like this it is fun to sing along with their songs, not because you've heard them before, but because each of their songs sounds like hundreds of songs you've heard before. I played this game and in my mind they played the chorus from Seether (by Veruca Salt) pretty damn well. In addition, they really hit the verse from "867-5309 - Jenny Don't Loose My Number" (I think by Tommy Tu-Tone) on the head. Their rhythms were truly unoriginal. While playing the "What Cover Does This Song Sound Like Game" (board and action figures not included) can be fun, it became very tiresome as The Lemons railroaded through their set of boring, heard that, been there, done that punk rock.
I didn't know what to expect from Ugly Beauty as they only recently formed. What a pleasant surprise this band turned out to be. Ugly Beauty is a four-piece; two guitars, bass, and drums. Both Christy and Jerry sing and play guitar, and their interaction was a great part of the band's performance. (For those curious-types, Jerry used to be in a band called Cell.) This was only Ugly Beauty's second show, but who could tell? They rode on and on at a relaxed chug, achieving something many indie bands strive for, driving rock with minimal distortion. Rock without testosterone laden riffing? Yes, this can occur, and when it works it is mesmerizing. Ugly Beauty's mimicking dual Fender guitars created a sweet but dirty backdrop for good song structures accented by a great interaction between the two vocals. The songs in which both Jerry and Christy sang back and forth, almost to each other, were most memorable Other songs rode on slowly, developing an increasing intensity that made the club swell with anticipation. Ugly Beauty may share a common approach to rock music, but after they digest this methodology their outcome is very unique. For better or worse. this band could be on the cover of Spin in a year. The question is do they want to?
Closing out the bill was the band most people had come to see, even though Brownies is infamous for its high crowd turnover from band to band. Idaho, on the end of a 6 week national tour, had its whole entourage in tow (literally) A bunch of 4 string guitars, guitar technician, sound man, Jeff Martin's various guitar processors, etc... The band played a variety of material, concentrating mostly on their recent release, This Way Out but they also played songs from their first album, Year After Year and couple of songs I had never heard before. Their performance was implicit in its affect. Idaho is the sort of band that stays with you after you actually listened to them. Their songs linger in your mind just as the words slowly trail from Jeff Martin's mouth. Hours later you feel like the music experience is still going on inside your head. These are strong statements, but watching Idaho play is an intense and moving experience, at least for me and a few other people I know. Jeff Martin was really screaming during a couple songs. This burst of energy and anger, in addition to the other more subtle emotional releases throughout the set kept the audience glued to the band. Subtle yet forceful transitions were abundant throughout Idaho's show. Some lazy critics have said that Jeff Martin's music is uninspired. After this performance I think even Maximum Rock and Roll would be buying potatoes.
- michael knowlton