show listings
IDAHO
Friday, October 18, 2002
7:30pm
Formed in a Los Angeles garage in 1992, venerable indie rock quartet Idaho have both shaped and survived the Slo-Core movement (which includes such luminaries as Low and Red House Painters). With seven CMJ-chart-bending albums, and critical acclaim everywhere from Melody Maker ("Astonishing and timeless") to CMJ ("Awe-inspiring") to France's prestigious Liberation (which named their Hearts of Palm as one of its Top Five records of the 2000), Idaho commemorates its ten-year anniversary, and celebrates the release of the new vault-raiding rarities collection, We Were Young And Needed the Money.
this show posting is/was at www.publictheater.org
and is available here for archival purposes
---
IDAHO
California's Idaho deal in the same brand of emotional slo-core produced by Red House Painters or American Music Club, but their newest, We Were Young and Needed the Money, a collection of unreleased tunes recorded over the years, displays a heretofore unseen garage-rock side to the band. Who knew?
Joe's Pub at the Public Theater, 425 Lafayette St., 212-239-6200
this show listing is/was online at The New Island Ear
and is available here for archival purposes only
show flyer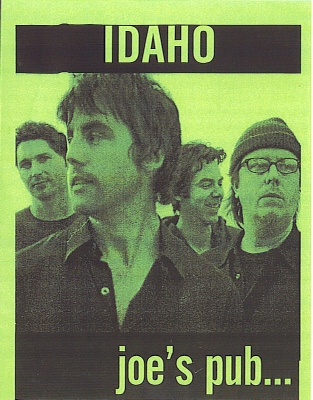 01. Levitate
02. New Dark
03. Lately
04. Parting Ways
05. Up for Living
06. Thick and Thin
07. Shoulder Back
08. Alive Again
09. To be the One
10. Hearts of Palm
11. Get You Back
12. Stare at the Sky
13. 20 Years
many thanks to Chris for the flyer